Hardwood Stairs Canada: Wood Stair Treads, Metal Spindles, Hardwood Balusters, Square Box Newels & More.
Retail & Wholesale Distributors Of Custom Stair Parts & Millwork Services - Canada & USA Wide Shipping.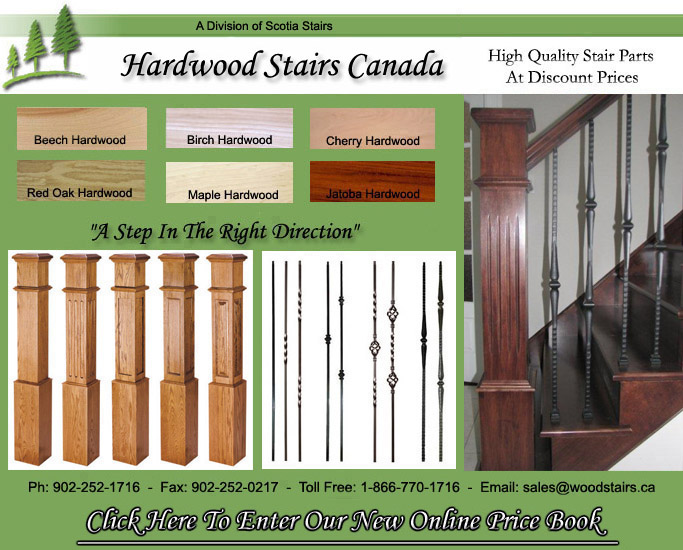 'Retail Internet Customers Receive A 10% - 35% Discount On Our Stair Parts - Volume & Order Type Specific'
'Building Supply Stores, Contractors, Home Builders, Renovators & Wholesalers Please Contact Us Today'
Hardwoods: American Cherry | Ash | Beech | Yellow Birch | Hard Maple | Hickory | Jatoba | Red Oak | White Oak
Notable Products: Full False Stair Treads | Metal Balusters | Hardwood Box Newels | White Balusters
Hardwood Stairs Canada is a wholesale supplier of quality wood stair parts & custom millwork, hardwood stair treads, hand railings, balusters ( natural wood, prefinished White & solid metal ) and beautiful staircases . Hardwood Stairs Canada teams up with North America's oldest/largest stair parts manufacturer ( 125+ years old and 3 production facilities that total 350,000 square feet ). We only do business with the very best, because our valued customers deserve the very best. At Hardwood Stairs Canada you can count on great product, great prices and great service. Our mission Is: 'to provide high quality stair parts at an affordable price to all consumers'.

We offer custom design & millwork in ash, birch, cherry, jatoba, kempas, maple and oak wood. Wooden turnings for newels and balustrades. Leaders in residential stairway and rail systems, curved & spiral staircases. We stock the following stair parts & components: metal spindles, metal balusters, wood spindles, wooden treads, oversized stair treads, false treads, round railings, newel posts, box newels, ash treads, birch treads, cherry treads, jatoba treads, maple treads, oak treads, white oak treads ( even bamboo stair treads & bamboo stair parts and hickory stair treads & hickory stair parts ); winder sets & wood fittings. Are you a Wholesaler or Contractor... Are you building a new home or planning a renovation? If so let us take care of the supply and installation of your new Hardwood Stairs & hand railings. We also have our very own in-house custom millwork shop where we can manufacture a wide selection of custom stair parts and other custom millwork items.
We Specialize In Retail Stair Parts Sales & Wholesale Supply Sales
Supplying Hardwood Staircase Parts For A Reasonable Price


Buy Flooring In Nova Scotia At Great Prices From Scotia Flooring
Top Band Names - Newest Styles / Colors - Discount Close Outs
Hardwood Stairs Canada A Division Of Scotia Stairs Limited 2579 Sackville Drive, Upper Sackville, Nova Scotia, Canada, B4E 3C3
All Material Is © Copyright - Your Source For Hardwood Stair Parts, Wood Stair Treads, Balusters & Railings In Canada / USA.